---
Return to SatCure index page
---
The Armstrong Pipemaking Family
---
"Snobs Scorn The Clay Pipe -- Church Warden Out of Fashion"
Copy of a newspaper article dated April 1928
Dying Industry
One of the last survivors of an industry that is being killed by modern changes of habit exists precariously in Middlesbrough. It is the clay pipe works of John Armstrong and Sons in Marsh Road and it is believed to be the only concern of its kind between Sunderland and Manchester.
The decline of this flourishing industry makes quite a romantic story. The palmy days of the clay pipe, of course, were before the briar became popular. Anyone who knows the old editions of Dickens and Thackeray will have been made familiar through the old illustrations with the picturesque 'Church Warden' which at one time was smoked by almost everyone.
Pickwickian
Take Pickwick, for instance. It was the Church Warden pipe that did more than anything else to provide the atmosphere of that immortal book. Every one of the old pictures, whether of the happy family circle at Dingley Dell or Mr Weller Senior on his box, contains a Church Warden and the air of serene content and well-being that the smoking of the long clay pipe seemed to give is almost indescribable.
But times have changed. The 'Gasper' which replaced the clay is in popular favour and, although it seems a pity that the cheap cigarette should have ousted the dignified Church Warden, it must be admitted that the change was inevitable and entirely in keeping with the times. As Mr John Armstrong kneaded his clay in his little workshop in Marsh Road, this morning, and with deft fingers inserted the clay shape into the moulds, he bemoaned the passing of the Church Warden and the 'cutty'.
"It is not only the popularity of the cheap cigarette that is killing the clay pipe," he said, "it is a certain snobbishness that is making smokers drop an old friend.
"How many men do you see smoking a clay in the street, today? Very few and yet a large number of smokers only prefer a wood pipe because of the look of the thing."
Mr Armstrong, whose family have been makers of clay pipes for generations back, has a remarkable dexterity at his craft. It is almost equalled by his young son, Fred, who handles the clay with a skill that is almost as fascinating to watch as the manipulation of the [cricket] bat by Sutcliffe.
Deft Fingers
This deftness is probably largely due to heredity. Mr Armstrong says that, when a baby is born into his family, the tiny fingers are never still and it can only be an inherited instinct that makes them roll anything put within their reach, exactly as one used to fashioning small articles from clay would.
There is not a great demand for clay pipes at the present but, if there were, Mr Armstrong and his son could manufacture some 3,000 a day between them. There is no need for them to work so hard, however, and they regulate their output according to the demand of the moment.
In expressing a hope that there would be some revival of the habit of smoking clays, Mr Armstrong pointed out that it was the most hygenic form of wooing 'My Lady Nicotine' as the clay is entirely clean and porous.
A return of the 'Georgian' style of dress for men is predicted. Possibly it will be accompanied by the return to favour of the Church Warden. Who knows?
---
Notes by Martin Pickering, grandson of Jack Armstrong: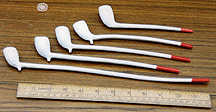 That article was copied by hand from a newspaper which disintegrated many years ago. The name of the paper (and of the author, fortunately, perhaps!) are lost forever.
The somewhat rosy picture which the writer paints of the actual manufacture belies the true nature of the filthy conditions in which the Armstrongs worked. The premises mentioned, in Marsh Road (which linked Cannon street with Forty Foot Road, near St. Patrick's church), were two terraced houses knocked into one and, apparently, were smoky and covered in the white clay dust. Opposite the house was a large common with a pond. Working conditions were far from ideal. As far as I can determine, similar premises were owned in Darlington, Sunderland and North Ormesby. The business was quite large just after the turn of the century but gradually declined and folded just before the onset of World War II.
John Armstrong was married to Jessie. They had about 11 children of whom two died quite young, I believe. The remaining children in descending order of age (as closely as I can find out) were Annie, Lena, Bella, Jessie, Minnie, Jack, Harry, Fred, (Alfie killed during an air-raid in the war). The women worked upstairs while the men did the carrying and other heavy work.
John & wife Jessie lived in Farrer Street in Middlesbrough. They eventually moved to Stowe Street. The business was definitely still running in 1936 but closed some time before the war started in Sept. 1939.
John was an alcoholic and a most unpleasant fellow, by all accounts. He was a member of the Royal Antediluvian Order of Buffalos (The 'Buffs'). Clay pipes used in the ceremonies gave the business a final boost before it died.
John's son, Jack, married Mary Forrest. They lived at 66 Harford st. then moved to Parliament St. where they had a general dealers shop. They moved to Leinster Road and converted their corner house into a shop. Jack sold Haberdashery -- wool, cotton, dishcloths etc. -- and pipes from the shop but also drove many miles by car, selling his goods. (His was one of the first cars in Middlesbrough and had a pipe on the roof). They had eight children of whom my mother, Ray, was one. I remember my grandfather, Jack, as a wonderfully generous man. He would do anything for anyone and was a marvellous handyman. I recall that he used to hang wallpaper for neighbours and I have a mental picture of him "scumbling" the back door with a wood-grain roller. The smoking habit killed him at the age of 70 when he died of emphysema.

Jack Armstrong in 1969

Ray recalls that the clay pipes were packed in wooden boxes. Jack's children used to dip the stems in red varnish (in Leinster Rd. -- Irish area. Nearby Donnegal terrace was originally called Tipperary terrace but the name was changed because nobody would live there).

(The Armstrongs were not Irish but came from the border counties near Scotland where, rumour has it, they were descended from thieves and raiders - "reavers").

Mary Armstrong (nee Forrest) in 1969
---
The Northern Echo on Tuesday, August 20, 1963 wrote the following article:
The recent discovery of a collection of clay pipes, some of them with 'Middlesbrough' stamped on the side, was of particular interest to Mr. J. W. Armstrong [Jack] of 82 Longford street, Middlesbrough. Less than a quarter of a century ago, he was still making clay pipes -- by the umpteen thousand.
In the old days, when he was young, the public houses in Middlesbrough kept thousands of pipes in their cellars to be given away with a pint of ale and Mr Armstrong was churning them out at as little as 1s 2d a gross.
"It was slave labour."
Today Mr Armstrong is on the staff of the ambulance depot in Middlesbrough and, if that place is busy, it certainly isn't as bad as the pipe making days.
In addition to the 1s 2d a gross cheap editions, he was making coloured clays (the trade name for the fancy ones) at only 2s 4d a gross. And all these were sand-papered by hand, coloured with a camel hair brush and shellacked before being popped into the gas oven.
"You had to work fast to make a living!"
But it was an Armstrong family business for three generations. Mr Armstrong's father and grandfather made clay pipes before he started, as a boy of about ten, and they had 13 or 14 premises in Darlington, North Ormesby and Sunderland before they stopped making them in Marsh Road, Middlesbrough, just before the 1939 - 45 war.
'Felt Terrible'
"But we hardly ever worked on a Monday," recalls Mr Armstrong. "If you worked day in day out it wasn't so bad but, once you had a day off, it took a bit of starting again.
"After a day off I felt terrible. It must have been the foistiness of the place -- the damp clay, the smoke and the fumes".
"Way back, some of the public houses kept ten or twenty gross of clay pipes ready for giving away. On Teesside they were of the 'T.W.' type, named, believes Mr Armstrong, after a Thomas White who designed that type. They were the most popular in the Teesside area. The Turf Hotel in Cannon Street gave 2 gross away every week. In fact they gave away a gross every Sunday night."
Mr Armstrong still has some moulds from which he made clay pipes but he hasn't a single pipe left.
"I gave them all away during the war", he explains. "People had great difficulty getting a pipe then."
John's son, Fred, married Mary Wetherill. They lived in the house in Stowe street after John and Jessie died. Fred and Mary had one son named Philip. Fred was a very kind man and shy. Unfortunately, he contracted glaucoma and died after a long period of illness. Mary still has many of the original pipe moulds and a press. She also has half a dozen examples of the pipes. The Dorman Museum in Middlesbrough supposedly has some pipes and moulds and, possibly, equipment. Preston Park museum, between Stockton and Yarm, used to have some pipes and moulds but they are no longer there. Either they were returned to the Dorman museum or they were stolen in a burglary but I remember seeing them there when I was a teenager.
Another article on Wednesday, May 3rd, 1972 provided this information:
Fred's 100-year-old clay pipe industry 'reappears'
Redundancies and disappearing industries have been capturing the headlines over recent years but to 61 year old Mr Fred Armstrong it is nothing new.

But for Mr Armstrong there will be one big difference. His industry is to be preserved -- in a museum.

For three generations the Armstrong family, of Middlesbrough, ran a flourishing clay pipe business with premises at Darlington, North Ormesby, Sunderland and Middlesbrough.

Fred Armstrong in 1972
And then fashions changed. There was a switch to cigarettes and to the wooden pipe. The clay pipe makers began to struggle for orders.
To meet the competition the pipe bowl was made from clay and vulcanite stems were fitted. Bowls were made specially to take a cigarette but slowly the trade dwindled and just before the 1939 - 45 war the Armstrong business closed.
Hard Work
But Mr Armstrong, of Stowe Street, preserved the essential pipe making equipment; the cast iron moulds and the manually operated machine for squeezing the surplus clay from the bowl.
Now out of the packing cases some of the moulds have been presented to the Dorman Museum, Middlesbrough, for exhibition.
"Some of the moulds have been in the family for well over 100 years," said Mr Armstrong yesterday as he recalled turning out 300 casts an hour in the Middlesbrough Marsh Street factory.
"It was very hard work," said Mr Armstrong, "because everything had to be done by hand. We had the clay sent up by rail from Cornwall and we had to collect it from the goods yard.
"I made 30 gross of pipes a week for 30s ( 1.50) and at one time they were sold for 1s 2d (6p) a gross but they are more than twice that price each now."
Mr Armstrong started in the business when he was 14 but, by the time he was 24, it was in decline and he left. A few years later his father closed the business.
He has dozens of moulds in packing cases and each one is different. "They cost about £2 each in those days.
"We sold the pipes locally to pubs, hotels and shops and we made a special short stemmed pipe for the Durham mining villages. The miners liked a short stemmed pipe because they used to carry them in their waistcoat pockets.
"Altogether I think we had a range of about 100 different pipes because even with clay pipes there were fashion fads and you had to keep abreast."
Although Mr Armstrong does not claim direct descent he is very proud of the fact that it was an Armstrong who took out the first patent to make tobacco pipes. And that was in 1618.
Fred's widow, Mary, has more information, including an encyclopedia entry about Archie Armstrong, the 'court jester' who took out this patent so long ago. She also has the original newspaper photograph of Fred with the wooden press which was used to squeeze the clay out of the pipe bowl.
Note: Although throughout the text I have referred to my grandfather by the familiar name of "Jack", which his friends used, he was actually christened "John", after his father.
Martin T Pickering 7/6/91
---
This Web Site was produced entirely on a Macintosh Computer.