---
Return to SatCure index page
---
How Clay Tobacco Pipes Were Made
---
This excerpt with illustrations was taken from the book "CLAY TOBACCO PIPES" by Eric G. Ayto
ISBN 0 85263 863 9
Published by: Shire Publications Ltd, Cromwell House, Church Street, Princes Risborough, Aylesbury, Bucks. HP17 9AJ. United Kingdom.
The Armstrong family used to make clay pipes in this way and the method is still used at the Clay Pipe Museum at Broseley near Ironbridge in Shropshire, England.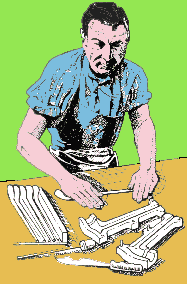 The clay was washed in wooden or copper tubs to remove dirt and stones and placed on boards to mature and dry.
When dry, the clay was worked by beating with an iron bar to remove air bubbles.
Balls of clay were rolled by hand and afterwards rolled out to form the rough shape of the pipe to be moulded. These were called "rolls".

A piercing rod was passed through the shank of a roll which was placed in a two-piece metal mould.

The assembled mould was placed in a gin press and the lever pulled down to force the bowl-forming rod into the clay. The piercing rod was removed and the pipe removed from the mould.

When the pipes were dry, any rough edges were removed with a trimming knife and the pipes placed in saggers ready for firing.

The saggers were then stacked in the kiln and fired to about 950 degrees Celcius.

After firing, the pipes were checked for flaws and the mouthpieces coated with wax or laquer to prevent the smoker's lips from sticking to the clay.
---
---
This Web Site was produced entirely on a Macintosh Computer.